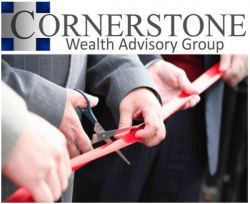 Join us on December 15, 2017 from 2-3pm in welcoming a new business to the neighborhood!
Cornerstone Wealth Advisory Group has expanded their business and will call 8550 Dorchester Road their new home.
A special presentation and welcome will be given by founder and CEO, Michael Haskett, and David Ambruster, Vice President.
They were named the winner of the 2017 Better Business Bureau Torch Award for Ethics, community service and charitable giving, an A+ rated company. Winning The Torch Award is an amazing testament to the employees of Cornerstone and their dedication towards community outreach and charitable giving.
Cornerstone has been serving the Lowcountry with retirement planning services since 2007, and specializes in providing Life Insurance, Health Insurance, Long Term Care Insurance, and Investments.
Follow Cornerstone on Facebook to stay up-to-date on the latest company news!