What is the North Charleston Business Expo?
The North Charleston Business Expo is a premier, all-day business event that brings together local business owners, professionals, and entrepreneurs. This year's expo is Wednesday, May 15th at the Charleston Area Convention Center.
The day kicks off with the Charleston Power LUNCH, presented by the Charleston Regional Business Journal from 11:30am – 1:00pm. This ticketed luncheon will include a networking opportunity, lunch, the presentation of the Small Business Development Center Entrepreneur of the Year Award, and a Q&A panel with the region's mayors. Click here to register for this special event.
Starting in the afternoon, there will be Contacts to Contracts and Business Resources Networking Sessions that are great matchmaking opportunities with local professionals. This part of the day is open to anyone looking to grow their business and meet hundreds of people. Bring plenty of business cards, a pen, and a great attitude.
The Expo will close with an open networking reception from 5:00pm – 7:00pm that includes food, live music, and drinks. This is an excellent chance to just get to know people in the area and build relationships.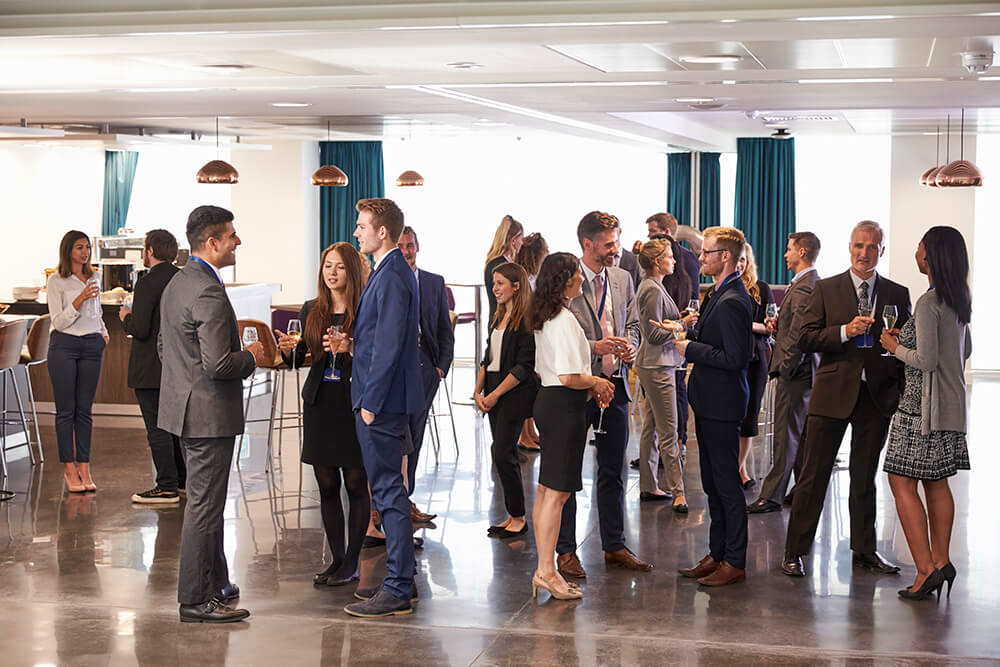 Why Should I Attend The Expo?
In 2018, there were 2,250 people in attendance, 200 regional vendors, and we are expecting an even bigger crowd in 2019. This is an incredible opportunity to network with thousands of business professionals, from small business owners to senior executives. You will have a chance to grow your company and gain valuable resources that can make you the best in your industry.
What Benefit Will I Get from Having a Booth at The Expo?
This is the easiest way to get yourself and your company in front of over 2,000 local business professionals and vendors. The goal of the Business Expo is to make connections with the region's top professionals and have the chance to get advice that will help you grow your business.
Tips & Tricks to Making the Most of Your Expo Booth
Promote Your Expo Appearance on Social Media
Let people know that you are going to be at the Expo and encourage them to come visit your booth. Create a Facebook event for your followers to reply to and post your booth number and a quick direction on how to get there.
Set Up the Night Before
Make a plan for how you want your booth to look and stop by on Tuesday evening to set up. You'll have as much time as you need and can come on Wednesday morning with a fresh mind to meet people and make connections.
Take a few minutes to go on Facebook Live and show followers your booth, share a little bit about who you are and why you are at the Expo. It will show that you are active in the community, care about your business, and may encourage people to come and chat with you.
Host a Giveaway
There will be hundreds of booths at the Expo, so you need something to bring people to you. Find a cool prize that everyone is going to want to enter to win and have attendees drop their business card in a fish bowl throughout the day. You expose your business to hundreds of people, make someone happy with an awesome prize, and have a bowl full of contacts to follow up with in the coming days.
Know Your Unique Service Proposition (USP)
What makes you stand out from your competitors? What does your company do that others do not? What makes someone call you instead of the other four people they met that do the same thing?
Booths are selling out fast, so register now to claim your spot. Even if you're not interested in having a booth, come out and network at the event and be sure to stop by and see your Chamber while you're there!