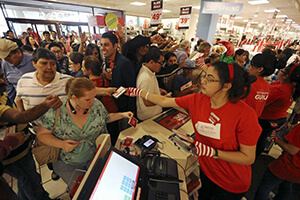 It's that time of the year again, time to fill your seasonal hiring needs. But, because it's that time of year, you're even busier than usual, multi-tasking and juggling too many projects. How can you find the time to start engaging in the hiring process? But the fact is, you need to do it and it needs to be done right.
We're here with some help and advice that will make hiring seasonal workers easier and more effective. We will look at two issues you're likely to face as you begin with seasonal workers: where to find them and how to hire them.
Finding Seasonal Workers
Hire your own customers.
Really, who best to hire than the people who already know and love you? They will most likely have some knowledge of your brand and products and will be excited to talk about them. This is also a fairly easy audience to reach since you can openly advertise in your establishment (whether that is online and/or offline) and you can speak directly to them. An effective strategy could be to advertise your policy to offer employee discounts on your merchandise, which is especially attractive during the holiday season.
Ask existing employees for referrals.
Loyal and hard working employees often know like-minded people. In general, your current staff will bring in the people they want to work with, and that usually translates to strong employees and a positive working environment (a good thing during stressful times).
And give them an incentive to do so.
Why not? Consider giving a small bonus (think of something that would be particularly motivating to your employees – a gift card, bonus time off, restaurant/spa/massage gift certificate,) at the end of the season to your employees who brought in a helpful, successful seasonal employee.
Attract retirees.
Retirees make up a diverse and attractive candidate pool: they have with extensive work experience and they're usually open to flexible work arrangements and ever-changing tasks. They are also a group that are likely to return for more than one season, which may not be the case for a large number of college students who will likely move on once they graduate. 
Hiring Seasonal Workers
Hiring seasonal workers is different from hiring permanent workers. Holiday hires either have to know how to do the job already or have the skills to learn it quickly, because there's no time for lengthy training. Just because they won't be with you forever, though, doesn't mean you rush the hiring process. These employees will be the face of your organization during your busiest times, so make sure to give this task the attention it deserves.
"Your strategy should be just as eye-catching and upbeat as your hiring strategy for year-round workers", says Dionne Minner, a senior area manager for Kelly Services in Troy, Michigan, who shared her interview tips for seasonal hiring success. Remember: every interview you do represents your company brand — to the candidate as well as to their social network.
Be honest. Be very specific about the nature of the job, the schedule (flexible or not?), how long the job will last, the skills that you are looking for, even the attitude that you are seeking. If the job has some elements that might not be appealing to some, it is better to make that information available from the start. This way, you'll avoid wasting your time and money down the line.
Be excited –sell your position and your company.
One interview tip all experts recommend: Part of your strategy for hiring seasonal workers should be communicating what makes your company a great place to work. Do you give employees a discount? Provide snacks? Offer prizes or bonuses? Can employees earn extra money by working overtime or overnight shifts?
With a little planning (and help from us), your company can hire seasonal employees that can make your business shine during the holidays. And who knows? When the holiday rush is finally over, you may even find their work helped your company grow enough to transition the best of them from temp to perm.