When:
October 3, 2023 @ 11:30 am – 1:30 pm
2023-10-03T11:30:00-05:00
2023-10-03T13:30:00-05:00
Where:
Hilton Garden Inn Charleston Airport
5265 International Blvd North Charleston
SC 29418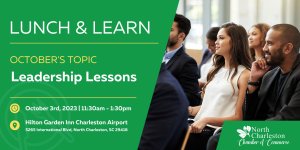 What: Leadership Lessons
When: Tuesday, October 3, 2023, from 11:30 am-1:30 pm
Where: Hilton Garden Inn Charleston Airport, 5265 International Blvd, North Charleston, SC 29418
Ticket Options
Members: $20
Non-Members: $30
Day of Event: $35
Sponsorship(s): $200 per table
Sspeakers:
Chief Greg Gomes
A North Charleston native, Chief Gomes ascended through the ranks, first biding his time at the Police Department's Radio Shop until eligible for the S.C. Criminal Justice Academy where he graduated with Honors. As a newly sworn officer, Gomes began his career in the Uniform Division then moved onto the Police and Community Team (PACT), a team which Gomes believes strengthened his belief that the community and police partnership is instrumental to effective policing. From 2001 to 2013, Chief Gomes' worked in Narcotics and Investigations where he succeeded as a Corporal, was promoted to Sergeant then Lieutenant even being recognized as the 2006 Federal Drug Enforcement and Administration (DEA) Task Force Officer of the Year.
In 2013, Chief Gomes was promoted to Captain over the Office of Professional Standards (Internal Affairs) where he implemented wide-sweeping policy and procedural changes to restore and improve public trust through thorough reviews of the agency processes and transparency. Chief Gomes was promoted three years later to Deputy Chief over Compliance and Standards Division, which allowed him to incorporate proactive education and training, recruiting, and hiring to implement these same principles.
In 2018, Chief Gomes graduated from Southern Police Institute's Command Officer's Development Course, a 400-hour flagship educational program for law enforcement professionals.
A true product of his upbringing, Greg attended North Charleston Elementary, Morningside Middle School, and North Charleston High School and received an Associate in Applied Science Degree from Trident Technical College. In his free time, Greg enjoys watching his kids play sports, particularly baseball, basketball, and volleyball.
Sheriff Kristin Graziano
Kristin Graziano is a 34-year law enforcement professional serving the last 22 years in Charleston. She served 14 years in Charlottesville, Va., prior to coming to Charleston. Before being elected Sheriff, she served as an Element Leader and trainer for the SWAT team. Passionate about safety in our school system, Graziano designed and implemented a uniform response code for active shooter scenarios for Charleston County Schools which was later used as a model for the rest of the state. Additionally, Sheriff Graziano was a member of the anti-terrorism task force and designed a port security threat analysis to secure and keep our ports safe. She is a 2015 recipient of the Medal of Valor from the South Carolina Sheriff's Association and a 2011 President's Award from the South Carolina Law Enforcement Officers Association.
Graziano was elected to serve her first four-year term as sheriff in November 2020.
term as Sheriff for Charleston County SC in 2024. Sheriff Graziano is a pioneer committed to promoting a justice system grounded in fairness, compassion, and social responsibility.