When:
June 6, 2023 @ 11:30 am – 1:30 pm
2023-06-06T11:30:00-04:00
2023-06-06T13:30:00-04:00
Where:
Hilton Garden Inn Charleston Airport
5265 International Blvd North Charleston
SC 29418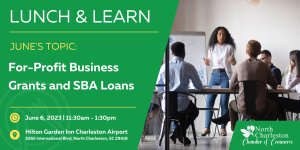 What: Join us for our June Lunch and Learn! June's topic is For-Profit Business Grants and SBA Loans featuring speakers Erica Baltazar-Diaz, Store Manager of TD Bank, and Dorothea Bernique, founder and Executive Director of Increasing H.O.P.E.
When: Tuesday, June 6, 2023, from 11:30 am-1:30 pm
Where: Hilton Garden Inn Charleston Airport, 5265 International Blvd, North Charleston, SC 29418
Ticket Options
Members: $20
Non-Members: $30
Day of Event: $35
Sponsorship(s): $200 per table
Speakers:
Erica Baltazar-Diaz is the store manager of TD Bank in North Charleston on River's Avenue. She graduated college with a BSBA degree from the University of South Carolina's Darla Moore School of Business with a double major in Finance and Marketing, and a minor in French. She is an opportunistic person always willing to try something new within careers that involve: Investments/Corporate Finance, Marketing/Advertising, Sales, and Banking. As a dedicated, independent, detail-oriented, and self-motivated young professional, she strives to incorporate the leadership and knowledge skills gained over the years from work experiences and college courses into everything in the task. Being multi-lingual and an articulate communicator, she has the ability to synchronize the essential details of multiple tasks in an efficient and resourceful manner. Her personal goal is to accomplish the objectives of her superiors while working effectively under pressure and meeting deadlines. She leverages her leadership skills and innovative thinking techniques to develop and apply them to the business world.
Dorothea Bernique is the founder and Executive Director of Increasing H.O.P.E (Helping Others Prosper Economically) Financial Training Center in North Charleston. Increasing H.O.P.E's mission is to create financial freedom and stability for local families through education, training, and community development. Increasing H.O.P.E. operates as a one-stop resource, providing integrated services to help people with low- to moderate incomes grow their savings and achieve financial stability.
As an Accredited Financial Counselor, Dorothea has been affectionately called a "financial guru": since 2005, she and the agency have trained thousands of individuals in the Lowcountry to effectively manage their monies, giving them more choices about life decisions – which, Dorothea says, is the beginning of financial freedom. Increasing H.O.P.E.'s total impact equates to more than $9 million in the community and the region.
In 2021, Increasing H.O.P.E. expanded its services and opened its I-HOPE Women's Business Center; the U.S. Small Business Administration selected the agency to run one of its 20 new Women's Business Centers across the nation. In addition, Increasing H.O.P.E. is an owner/partner in its new office building, The Opportunity Center, on Rivers Avenue. Dorothea is the Board Chairwoman of the Opportunity Center.
In 2021, Dorothea was recognized as one of the leading S.C. Women in Business, in the non-profit category, by Integrated Media of Greenville. She was also chosen to testify about financial literacy before the U.S. Senate's Special Committee on Aging in January 2022. In addition, Dorothea is a proud veteran of the U.S. Airforce. She and her husband, Christopher, have been married for over 40 years. They have two children and four grandchildren.