2017 – our first full year in existence – was quite a year indeed. Our membership increased in number (78 new members to be exact), diversity and size, bringing great opportunities for business friendships and networking connections for all of our members.
We launched several popular programs –monthly educational Lunch & Learn sessions and quarterly mixers allowed our members to come together to learn from one another and to network with each other.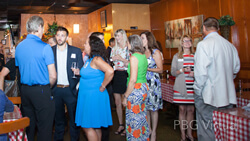 The creation of the Active Connections program expanded our ability to help members develop a community that works together and refers to each other. And the Minority Entrepreneur Business Development program actively provides connections, education and resources to minority businesses in North Charleston to help with business development and success.
On the technical side, the launch of our mobile app opened up the Chamber to businesses around Charleston – and the entire country. It allows all business professionals, not just Chamber members, the ability to connect, find networking opportunities and share social media streams. No matter how tech savvy you may (or may not) be, our app brings you good old-fashioned personal networking in a new medium with exponential reach.
We also introduced ourselves to the larger business community, participating in the planning and running of the North Charleston Business Expo.
And while we have many proud accomplishments to look back on, there's even more to look forward to in 2018. Here's what we have in the works:
Two new programs: Veteran-Owned Businesses and the Young Entrepreneur Program.
The 2018 Awards Banquet
Continue to grow our membership
Sponsor a booth and committee for The North Charleston Business Expo , This must-attend event offers the business community, from small business entrepreneurs to executives, an opportunity to network with local professionals, engage with exhibitors, and discover resources for business growth. The expo will take place on March 22 at the Charleston Area Convention Center.
Thank you all for an exciting and rewarding 2017 – we anticipate 2018 will be our best year yet! If you'd like to be part of any of the above plans for 2018, now is the time to get involved. Let us know your interests – or what else you would like to see from your Chamber in 2018 – we'd love to hear your thoughts. Contact us at (843) 410-0321 or info@northcharlestonchamber.org.