When:
November 1, 2022 @ 11:30 am – 1:30 pm
2022-11-01T11:30:00-04:00
2022-11-01T13:30:00-04:00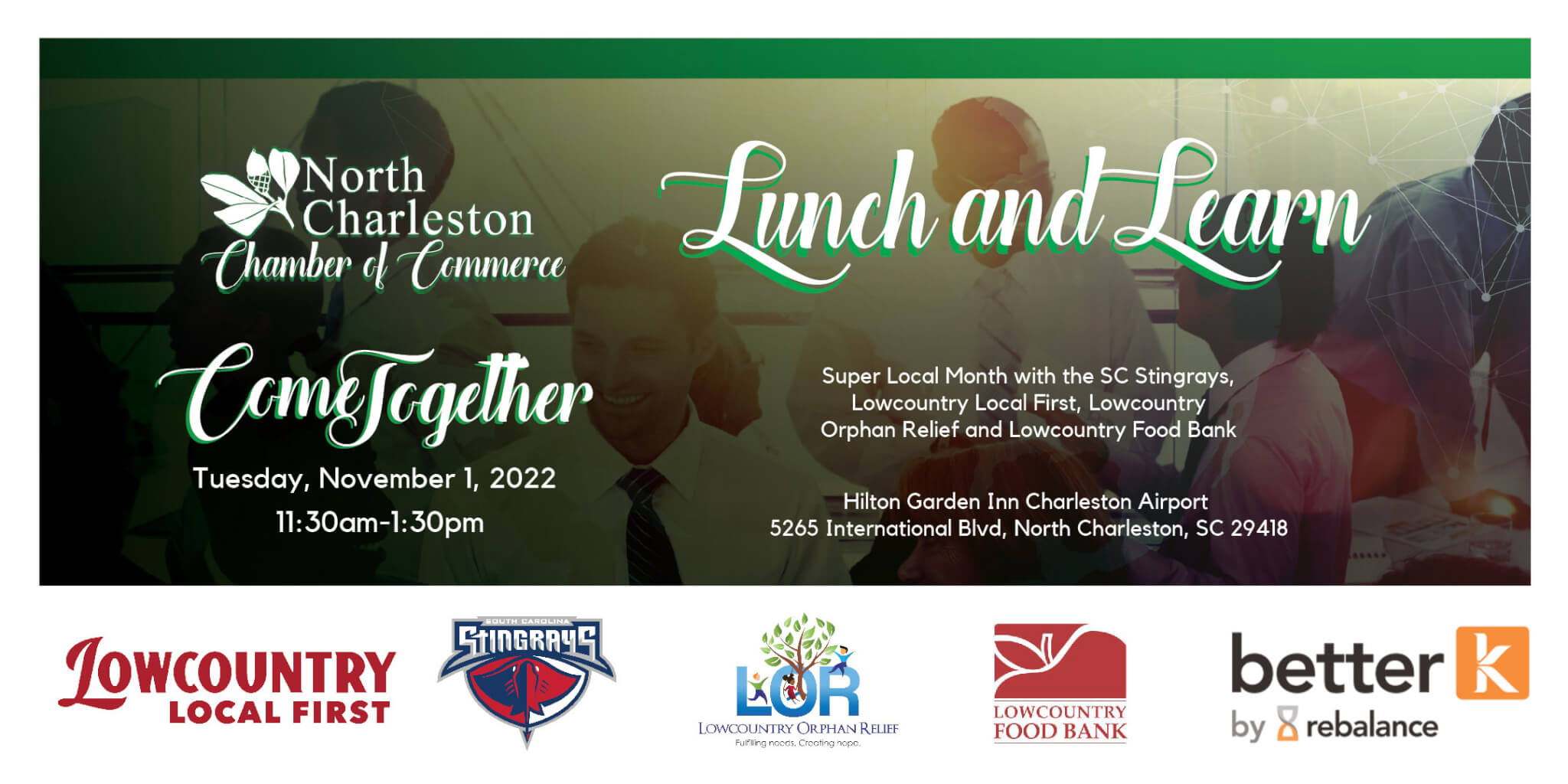 Event Information:
What: Lunch & Learn discussing many non-profit organizations such as Lowcountry Local First, SC Stingrays, Better K by Rebalance, Lowcountry Orphan Relief, and Lowcountry Food Bank.
When: Tuesday, November 1, 2022, from 11:30 am-1:30 pm
Where: Hilton Garden Inn Charleston Airport
Ticket Options
Members: $20
Non Members: $30
Day of Event: $35
Sponsorship(s): $200 per table
Speakers:
Kevin Schultz: With SC Stingray Hockey – The main speaker for the event.
About Lowcountry Local First: They cultivate an economy anchored in local ownership because local-independent businesses are the cornerstone of our culture, economy, and character. We empower locally-owned businesses to do well and GOOD by amplifying their voices, driving dollars their way, and fostering an environment where they can thrive. We believe relationships and ownership matter — and how we spend our dollars shapes our community in powerful ways.
Kip Watson, Community Builder at LLF: Kip is originally from Boston but came to the Lowcountry to attend the College of Charleston in 2007. He has been busy as a sailing instructor, equity researcher, financial consultant, policy analyst, and most recently a graduate student once again at the College of Charleston. He recently earned his Master of Public Administration degree with a certificate in Urban and Regional Planning. He tailored his coursework to focus on local-level economic development and took his learning outside the classroom working with the MPA Community Assistance Program, NC Growth SmartUp, and the City of Charleston's Office of Business and Neighborhood Services. When not contemplating the local entrepreneurial ecosystem, you can find Kip on or near the water whether on the beach or a boat, working in the yard with his wife Meghan, or planning his next getaway.
About Lowcountry Orphan Relief: The mission of Lowcountry Orphan Relief and Midlands Orphan Relief is to provide support services and aid to meet the needs of South Carolina children identified as at-risk or suffering from abandonment, abuse, and/or neglect. The vision of Lowcountry Orphan Relief and Midlands Orphan Relief is that no child should be without the necessities in life, regardless of their life circumstances.
Carolina Johnson, Marketing Coordinator at LOR: Caroline is a California native who moved to the Lowcountry just over a year ago and immediately began her work at LOR. Caroline graduated with a communications degree from Regent University in 2016 and has a passion for youth missions. Prior to starting her career in business communications, Caroline traveled across Southeast Asia from 2011-2012 to help children escape human trafficking and receive a proper education.
About Lowcountry Food Bank: They serve more than 200,000 food-insecure individuals every year through our strong relationships with nearly 300 community partners – a network of food pantries, on-site meal programs, school programs, senior programs, veteran's groups, and shelters. Our dedicated staff works to equitably distribute food across the 10 coastal counties of South Carolina we serve. We provide our partners with fresh fruits and vegetables, shelf-stable food, equipment, nutrition materials, and food safety training.
Alexis Barbalace, Development Officer at Lowcountry Food Bank
Better K by Rebalance
PRIZES
1 free month of Community Coworking at Local Works, a $175+ value (connect with LLF)
2 stingrays hockey tickets