When:
March 7, 2023 @ 11:30 am – 1:30 pm
2023-03-07T11:30:00-05:00
2023-03-07T13:30:00-05:00
Where:
Hilton Garden Inn Charleston Airport
5265 International Blvd North Charleston
SC 29418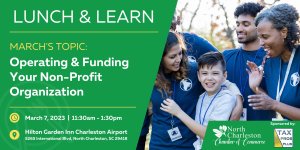 What: In March we focus on Non-Profits. Meredith Crowe of Big Brother Big Sister will speak about funding and the finances of non-profits. Tom Swanciger with Father to Father will be speaking about the operations of a non-profit.
When: Tuesday, March 7, 2023, from 11:30 am-1:30 pm
Where: Hilton Garden Inn Charleston Airport, 5265 International Blvd, North Charleston, SC 29418
Ticket Options
Members: $20
Non-Members: $30
Day of Event: $35
Sponsorship(s): $200 per table
Speakers: 
Big Brother Big Sister – Merridith Crowe is 19-year veteran in the human service and higher education nonprofit sector specializing in fundraising and a three-time Big Brothers Big Sisters veteran serving in Utah, Florida, and our region. A ten-year resident of Charleston, she lived here twice before as an Air Force brat. In July 2018, Crowe decided to pursue her dream of establishing an independent Big Brothers Big Sisters affiliate in Charleston, SC. With the moral support of Carolina Youth Development Center (previous host to a Big Brothers Big Sisters program), Big Brothers Big Sisters of America, and a few of her own professional mentors, Crowe raised seed capital, convened a board, and founded the organization in February 2019. In April 2019, Big Brothers Big Sisters of the Lowcountry opened its doors with an ambitious plan to grow the organization to serve 1,000 children annually in 6-10 years. Prior to pursuing this dream, Crowe serve as Chief Operating Officer for Trident United Way.
Like many of the children served by Big Brothers Big Sisters of the Lowcountry, Crowe knows what it is to grow up in trauma and has experienced firsthand the impacts of intergenerational poverty and abuse. She believes deeply in the great promise and potential residing within ALL children and she credits a few dear mentors with helping her stay on the right path and break the cycle of abuse. Under her leadership, BBBSL has pursued a strong commitment to setting inclusive tables, pursuing culturally competent mentoring, and recruiting staff and mentors with lived experience.
Merridith was a board member and president of the Utah Society of Fundraisers (2004-2009), cohosted the West Ashley Critical Action listening sessions for Charleston County School District, and is a graduate of the Riley Diversity Leaders Institute at Furman and Racial Equity Institute. She currently serves on Big Brothers Big Sisters of America's Diversity, Equity, and Inclusion Taskforce, its Volunteer Experience Taskforce, and as a Small Agency Alliance leader.
When not figuring out how to serve 1,000+ children annually, you will find Merridith embracing the role of mom to her nine-year-old son Corbin,, squeezing in yoga, and spending time with friends, hiking, traveling, cooking, or reading.
Father to Father – Tom Swanciger:
I have been very fortunate in my 25-year career in the non-profit sector. I have been able to wear many hats and learn from many great leaders along the way. Most recently I was the Executive Director of the South Shore YMCA, a branch of the YMCA of Greater New York. The majority of my career has been spent in the YMCA movement, where I have held positions as Chief Executive Office, Chief Operating Officer and Camp Director to name a few. I have held positions with the Y in Ohio, New York, New Jersey, and Pennsylvania.
Tom and his wife moved to South Carolina nearly two years ago as Tom took on the role of Chief Executive Officer of the nonprofit Father to Father, Inc in North Charleston. During his time as the CEO of Father to Father Tom has been able to get the word out on the street on what the organization is all about and continues to help those that are in need. Father to Father was also recently recognized as a Jefferson Award recipient.
Tom and his wife Jennifer live on Johns Island with their two dogs Chloe and Blanche.
Sponsored By: Tax Pros Plus