When:
November 16, 2022 @ 1:00 pm – 2:00 pm
2022-11-16T13:00:00-05:00
2022-11-16T14:00:00-05:00
Where:
Masis Stafffing
7800 Rivers Ave. Suite 1080 North Charleston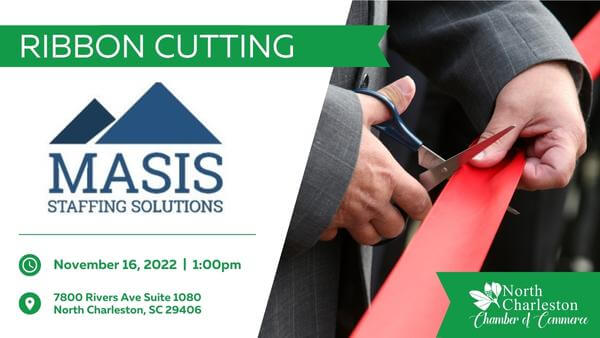 Masis Staffing Ribbon Cutting
Contact: Victoria Pineda (vpineda@masisstaffing.com)
Address: 7800 Rivers Ave Suite 1080 North Charleston
Date: 11/16/2022
Time: 1:00pm
Special Guest: Reggie Burgess Chief of Police North Charleston
Events: Thanksgiving Turkey Raffle and a Canned Food Drive
More about Masis Staffing:
Who We Are
When you hire Masis, we take your staffing needs personally. Our mission is to offer creative solutions for our partners to ensure they have a full-service solution to accomplish what is most important… RESULTS!
We are a family-oriented, service-driven staffing firm with a sincere and responsible team dedicated to delivering custom solutions for your hiring needs. Our associates are the heart of every client solution and are a key asset to the continued development of our partnerships.
Customized Staffing Solutions:
Temporary Staff
Short and Long Term
Temp-to-Hire Solutions
Direct Hire Placement Services
Payroll Outsourcing
On-Site Support
Master Service Partnerships (MSP)
Complete & Accessible Human Resource Partner
Masis Professional Group
Our Professional Group specializes in sourcing top-notch talent for direct hire, contract, and temp-to-perm placements within a variety of industries and skill sets.